PLEASE EXCUSE A LITTLE WALK DOWN MEMORY LANE, but...
These are some early posters from my wife's
and my band (Elements of Style) that played in the
1980's at various clubs in San Francisco and Los Angeles.
That's her (Ramona Torch) exuding stage presence below,
and me being just a tad hyperactive further down the page.

Some of these posters were featured in the book
THE ART OF ROCK by Paul Grushkin, which was published
by Abbeville Press.

Photos by the ever expressive Cathy Anderson.

To sample some of Elements of style's music, check the MP3s
at the bottom of the page (they're about 3Mb each).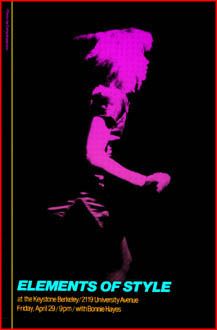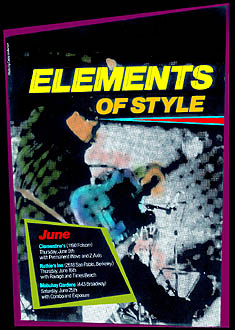 This poster was actually cut to this wacky shape, thanks
to the understanding and enthusiasm of our personal printer, Carl "the Snarl" Campbell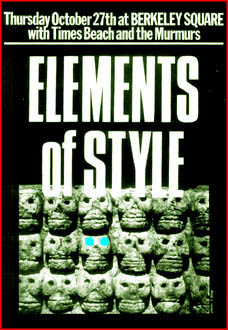 This one was for our halloween show, so I had the eyes on one of the skulls
drilled out at the printers to make a mini-mask..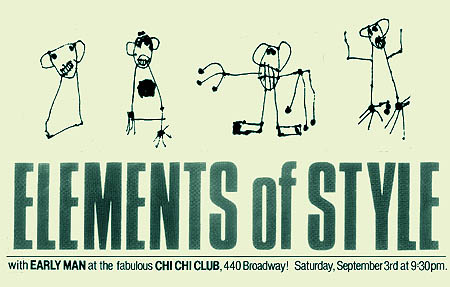 Band portraits were drawn by the talented young artist
(and son of our bass player) Bo "Doc Boothead" Richardson

One of the highlights of our checkered musical career was supporting the legendary Ronnie Spector, who was one of Ramona's heroines. She got to meet her back stage after the
show...Ronnie was about three months pregnant, enjoying a smoke and a cocktail, and really being as sweet as she
could be...

Elements of Style MP3s: