Cafe Scientifique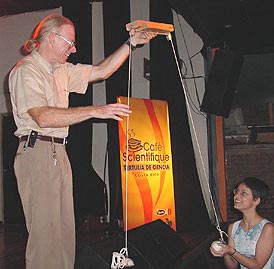 Paul Doherty dropping a baseball that falls at Martian acceleration, on stage at a Cafe Scientifique in San Jose Costa Rica.
I was invited by Alejandra Leon of Cientec to present a Cafe Scientifique about recent discoveries on Mars.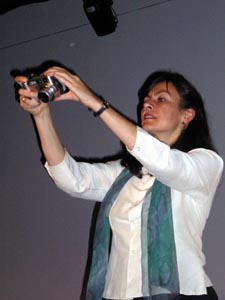 Alejandra Leon, director of Cientec photographs the Cafe.
At the Cafe Scientifique I discussed Mars with patrons in Meridiano al Este, a night club. It was a relaxed and fun way to do science. I began on a stage by showing movies and images from scientific missions to Mars.
Here are the images I used in my presentation. Mars
On stage I was joined by Dr. Pedro Leon a well known Costa Rican geneticist, we had a fun discussion about the possibility of finding life on Mars and also about life in the universe.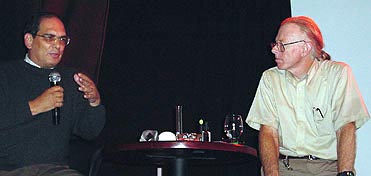 Dr. Pedro Leon discusses the possibility of life on Mars.
After the stage presentation, I dropped down to a table among the audience where I let them experience Mars, the smell and taste of carbon dioxide plus other experiments.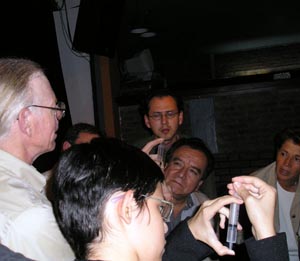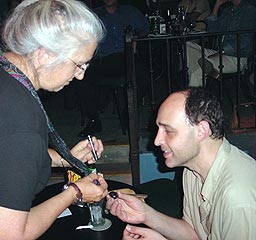 My wife Ellen brought around a piece of Mars for people to touch.
The hands-on explorations led to questions and discussions.

I loved the informal nature of the discussions.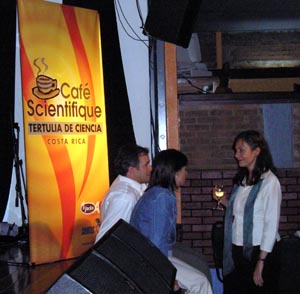 Sometimes small groups had their own discussions of to the side.
Here's the Cafe Scientifique team.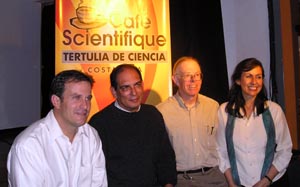 Andres Pozuelo, director of the sponsor, Jacks, Dr. Pedro Leon, me, and Alejandra Leon, Director of Cientec.
The Cafe was a wonderful experience for me. I loved the interactions it inspired with people who are interested in science. I hope I can create a Cafe Scientifique at the Exploratorium in the near future.
Thanks to Jacks for sponsoring this event and to Cientec for inviting me to participate.