About Paul Doherty
I am a physicist, teacher, author, and rock climber.
After graduating summa cum laude from from the Massachusetts Institute of Technology (MIT class of 1970, physics) I earned my Ph.D. in solid-state physics from MIT in 1974.
As a tenured professor of physics at Oakland University, 1974 through 1986, I taught a wide range of science courses, including physics, astronomy, geology, electronics, computer programming, and meteorology.
In 1986, I came to the Exploratorium Teacher Institute and began my exhibit-based explorations in science. I became the co-director of the Teacher Institute in 1990 and the founding director of the Center for Teaching and Learning in 1992. Since 1997 I have been a senior staff scientist at the Exploratorium. I am also a visiting scientist at Tom Tits Experiment in Sweden and an adjunct professor of physics at San Francisco State University. In 1999 I received the "Administrator of the Year" award from the California Science Education Advisory Council for my work directing teaching programs at the Exploratorium. In 2002 I was awarded the Distinguished Teacher Award by the American Association of Physics teachers, Northern California Section. In 2003 I was given the NSTA's Faraday Award for excellence as a science communicator.
As an author, I have written over three dozen articles for Exploring magazine. For the Exploratorium Press I have have co-authored the Exploratorium Science Snackbook, and the book Square Wheels with Don Rathjen. For Klutz Press I have co-written the Explorabook which has sold over a million copies, and also the Book of Magnetic Magic, the Zap book, and Glove Compartment Science. For Chronicle Press with Pat Murphy I have written: The Color of Nature and Traces of Time. I am a regular science columnist for the Magazine of Fantasy and Science Fiction. Recently I wrote three articles for Muse magazine: one on Color with Pat Murphy, one on singing corrugated pipes, and one on great adventure books.
For musical entertainment, I play the whirly--a corrugated plastic tube. In pursuit of whirly excellence, I have won several competitions, including an award as "Best Science Demonstrator" at the World Congress of Museums in Helsinki in 1996. I recently had fun performing physics activities on Late Night with David Letterman.
I am about to finish my second decade as a rock climber, and have just completed my second vertical marathon - 26 miles of rock climbing. In 1994, I led a successful ascent of my personal best climb: the East Buttress of El Capitan. In December of 2000 I was part of a 4 man team that made the first ascent of 20,100 foot high Sierra Nevada de Lagunas Bravas on the Chile-Argentina border.
In 2001/2002 I was part of a team of artists and writers from the Exploratorium that did two months of live webcasts from Antarctica. I did webcasts from the summit of Mt. Erebus and from the Dry Valleys, and submitted over two dozen webpages from the field.
I am proud to have created this web site with over 600 pages describing science explorations and outdoor adventures.
Paul Doherty in Black and White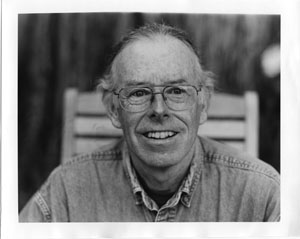 Click on image for a much larger version.
Image by Modesto Tamez.
More images of Paul Doherty teaching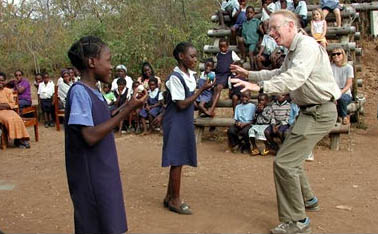 Paul Doherty teaches about eclipses at the Tongabezi School in Zambia.